I'm going to go ski mountaineering and surfing in New Zealand,
and tramp about in a 4×4 camper van.
Mount Erewhon is the first ski objective located where they filmed Lord of the Rings, Two Towers which in the movie was called Edoras, Rohan. Its an abandoned heli ski field with a road up for good access and a nice lodge below.  Its a beautiful location.
http://www.kiwiblog.co.nz/wp-content/uploads/2013/03/NZ-CA-mesopotamia-rangitata-sunset-1k.jpg
New Zealand has huge backcountry ski potential and it snows in August and September which is winter down under.  It sounds safer with less crime than South America and the airfare from Hawaii is cheaper.  There are huts and club cabins in the mountains to stay at.  Some provide food as well. Prices are modest and the currency exchange is good.  The island is accessible with mountains  3 hours away from the coast.  Its the ultimate surf-n-ski destination.
Another spot with good snow cover currently and good  backcountry potential is Treble Cone in Wanaka.
http://cdn.3news.co.nz/3news/AM/2013/8/20/309683/treblecone.jpg?width=700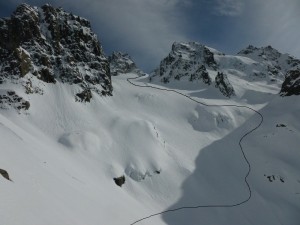 http://skitouring.co.nz/wp-content/uploads/2012/10/kai-tarau-glacier-300×225.jpg
Kai Tarau is another beautiful ski objective near Mt. Cook.  Its a 4K walk in, which is not bad and I'll set up a basecamp at the bottom of the bowl.
I have a good surfing buddy who lives in Dunedin at an epic surf spot called Murdering Bay with an epic set up like Malibu but with few folks out.  I've known him and his family for 30 years and will go visit him.  He's got a cool house overlooking the surf spot.